Glasgow Phoenix Choir's gala concert, on Friday 27 April 2018, in Glasgow Royal Concert Hall celebrated the introduction of the new Carers Legislation Scotland and helped fundraise for the Carers Trust Scotland. We were joined on stage by the band of Her Majesty's Royal Marines Scotland  , The High School of Glasgow Junior Chamber Choir and, in the Choir Stalls, the Carers Choirs for a spectacular evening's entertainment.
We also took the opportunity to mark the ending of our sponsorship by Coop Funeralcare after 11 years, by presenting a souvenir album of all the concerts, events and charity fundraising we have been able to perform over that 11 years, with Coop Funeralcare's support, to John Williamson, Coop Funeralcare's Head of Operations (Scotland & N.Ireland).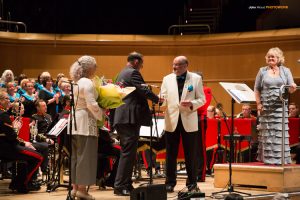 One of the many highlights of the evening's programme was a roof raising 'sing along' rendition of 'Song of the Clyde' by our veteran tenor Bill Forrest, who later this year will celebrate 60 years as a member of the Glasgow Phoenix Choir.