The end of May saw the choir off on its travels to deliver a Spring Festival of Music over five concerts in five locations throughout Oban and Argyll.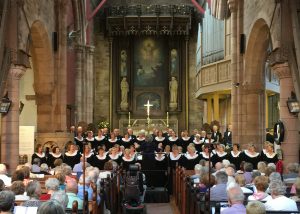 Friday 27 May found us in St.John's Episcopal Cathedral in Oban for the first of the series of concerts where the capacity audience enjoyed our efforts and helped to raise funds for the Cathedral and the Hope Kitchen charity based in Oban. Hope aims to provide food, shelter and companionship to vulnerable and marginalised people living within the area of Oban and Lorn.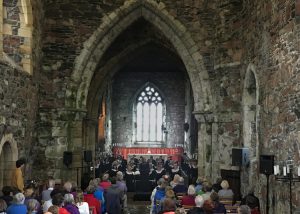 Saturday saw an early rise for the choir to catch the ferry to Mull and on to Iona and the Abbey for the second of our five concerts. The choir has performed in the Abbey several times in the past and we always look forward to returning. The rain failed to dampen our spirits and we enjoyed a wonderful concert in the singular acoustic of the Abbey. 
A slightly more leisurely start to the day on a sunny Sunday took us off to Lochgilphead and an afternoon concert in the Parish Church there as a 'thank you' to JoLoMo (the artist, John Lowrie Morrison who has kindly given permission in the past for the use of his artwork on some of our CD covers).  Mr. Morrison, a self-confessed fan of the choir, asked that the concert help support Carers Trust. To say that the church was 'bursting at the seams' is a fair indication of the size of our audience and they raised a magnificent £1000 for the Carers Trust in Argyll.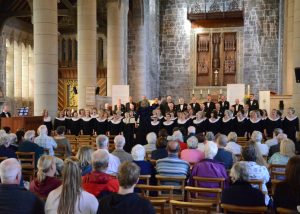 From Lochgilphead back to Oban, in time for 'Choral Vespers' in St.Columba's Cathedral with a retiring collection in aid of Hope Kitchen and the Cathedral, which raised £350, drawing a busy but very enjoyable day's singing to a close. The, by now, traditional Tour Quiz which the tour party participates in raised a further £160 from the choristers and this was donated to Hope Kitchen.
Monday and the return leg of our journey to Glasgow with a stop in Loch Awe for the fifth and final concert of the weekend in the iconic St. Conan's Kirk for the 'Friends of St.Conan's' in aid of the Kirk Restoration fund. The kirk was packed to capacity on a wet holiday Monday afternoon and the midges were out in force ! We were not deterred ! Suffice to say that the concert was such a success that we have been invited back to do it all again next year. 
A terrific weekend of singing in a beautiful part of our country and some amazing venues. We look forward to returning at some time in the future. Our thanks also to our sponsors, Co-op Funeralcare, whose support helps make tours like these possible.