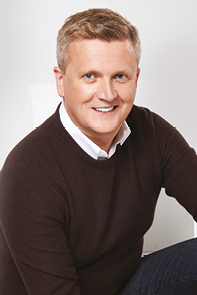 Singer, TV presenter and radio broadcaster Aled Jones MBE is set to tour the UK this Spring but this time, he won't be alone. Following a search for local choirs to join him on stage at Paisley Abbey on Saturday 6th. May, Glasgow Phoenix Choir has been selected as the winning choir. Aled was flooded with applications from choirs across the region and it was a near impossible decision to choose just one.
2016 was an incredible year for Aled as he released hit album 'One Voice'. Week on week it ascended the pop chart to a staggering no.3 position. It held the no.1 spot on the classical chart for 14 weeks and has now sold over 72,000 copies, gaining silver BPI status. In fact Aled sold more than former One Direction Star Zayn Malik during the first week of sales. Combined with the sales from his Christmas album 'One Voice at Christmas', Aled was the best selling Classical artist of 2016.
Aled said: 'I'm really excited about hitting the road again and singing in the fabulous Paisley Abbey with Glasgow's very own Phoenix Choir. There was an overwhelming number of choirs that applied and it was a tough decision to pick just one. I'm really looking forward to performing with them and I'm sure it will be a great night for all."
Aled has his own Sunday morning radio show on Classic FM 7 – 10am and is due to return to his ITV1 show 'Weekend' every Saturday and Sunday morning as well as being a regular on BBC1 on 'Songs of Praise' and a new series of 'Going Back, Giving Back'.
The tour is set to visit the following venues across the UK:
Paisley Abbey – Saturday 6th.May
Wrexham William Aston Hall – Monday 8th.May
Lichfield Cathedral – Tuesday 9th.May
York Grand Opera House – Thursday 11th.May
Links:http://officialaledjones.com ; https://twitter.com/realaled ; https://www.facebook.com/realaledjones ; https://www.instagram.com/realaled