"In honour of all who believe that life was made for Friendship"
About Us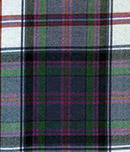 Glasgow Phoenix Choir is a member of the National Association of Choirs and is recognised as one of the foremost and longest established choral groups in Scotland and the wider UK. This mixed voice choir has today approximately 120 Chorister Members, non-singing Associate Members and Patrons. We even have our own tartan (pictured left!).
Founded in 1951 the choir is able to trace its history and origins back to 1901 and the world renowned Glasgow Orpheus Choir under its conductor, the late, great Sir Hugh S. Roberton. We continue to perform new arrangements and old (many of them by Sir Hugh Roberton himself) of Scottish songs for which the choir is widely known. This is not the only part of the Choir's extensive repertoire however, which extends  through classical and sacred music, from all the major composers, to choral songs and the folk music of many cultures  and music from the shows, including many of the top musicals currently showing worldwide. Glasgow Phoenix Choir is not a religious/church choir, neither is it an orchestral/theatrical chorus, but we have elements of all of these and more in our library catalogue of over 1000 titles and have recorded over 35 albums which reflect the breadth of our repertoire.
Highlights
The Glasgow Phoenix Choir has had many milestones throughout its history. These have included appearing in the BBC Proms at the Royal Albert Hall in London. Participating in the UK premier of the concert version of the musical "Chess". Performing the centrepiece of the Glasgow International Jazz Festival, John Surman's "Ovation", in Glasgow Cathedral which was broadcast on BBC Radio 2. Accompanying Michael Crawford on the Glasgow and Edinburgh legs of his UK tour. Participating in the Sound to Sea nautical extravaganza staged during the Commonwealth Games in Glasgow in 2014. Over the years we have accompanied and performed with many well known artistes of the musical stage and recording world, most recently with Aled Jones in the first concert of his 2017 UK Tour at Paisley Abbey. In 2019 the choir performed at the Celtic Connections Festival in a tribute concert to the composer Patrick Doyle and was honoured to perform the world premiere of his latest composition 'Sweet Rois of Vertue'. Some of the choir have been involved in the filming of BBC Scotland's TV comedy "Still Game" in the episode entitled 'Plum Number'. We have even performed in a swimming pool !
Tours and Associations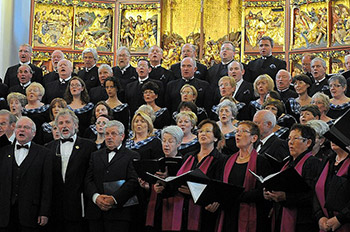 In the past the Choir has undertaken many tours to Europe, including Germany, the Netherlands and Belgium and to Canada and USA (four times), establishing links with choirs in these countries.
From Europe the Choir still regularly exchanges visits with the Widukind Chor Enger, Germany.
In the UK and Ireland exchanges have been made and joint ventures undertaken with, to name just a few from more recent times, Hereford Police Male Choir, Mull Gaelic Choir, Dingwall Gaelic Choir , City of Glasgow Chorus, Northampton Male Voice Choir, Donaghadee Male Voice Choir, Dublin Airport Singers, Inverclyde Voices and Govan Gaelic Choir.The Choir also performs throughout the British Isles in many prestigous venues which have included Glasgow Royal Concert Hall; Usher Hall, Edinburgh; Royal Albert Hall, London; National Concert Hall,Dublin; Ulster Hall, Belfast and many of Britain's wonderful Cathedrals, including Hereford, Gloucester, Worcester, Durham , Glasgow, St.Andrew's (Glasgow), Dunkeld, Dornoch (Britain's smallest cathedral) and St.Magnus, Kirkwall (one of Europe's most northerly cathedrals).
Charities
Itself a registered charity (Scottish Charity No. SC002904), the choir gives concerts to raise funds for a great many charitable organisations and worthy causes, both large international groups and smaller local bodies, and has raised over £1.5 Million Sterling (approx €1.7 Million, US$ 2.3 Million). In recognition of its fundraising contributions the Choir was awarded the Paul Harris International Fellowship by Rotary International. This prestigious award is usually presented to individuals and the choir is currently the only organisation in the world to have received it.
Support for Young Singers
The Choir has a policy of encouraging music-making in schools and colleges, particularly to stimulate the interest of youth in choral music. To further this aim the Phoenix established the Peter Mooney Scholarship in the Royal Scottish Academy of Music and Drama to assist a first year student in voice training and has also a strong connection with the Inverclyde Schools Choirs, St.Aloysius College choirs and the High School of Glasgow choirs, who have appeared at Phoenix concerts as guest artists.