'TO SUCCEED GLASGOW ORPHEUS CHOIR':
(Press reports from 1951)
"Former Members' Proposals
     A new choir is to be formed out of the former Glasgow Orpheus Choir.
     At a meeting of the former members to be held on Monday in the Orpheus Studio, Greyfriars' Church Hall, Albion Street, Glasgow, the formation of another choir will be approved, the name of the new choir will be chosen and recruits will be received for membership.
     An informal meeting was held in the studio last night, attended by 67 Orpheus singers, when it was announced that Mr R.H.Howie would be the conductor of the new choir. Mr Howie was a member of the Orpheus Choir for 31 years and, latterly, was deputy to Sir Hugh Roberton, conductor.
The formation of the new choir is in the hands of four of the Orpheus singers – Mr J.Miller, Mr Robert Forbes, Mr James Wilson and Mr George Hardie.
     Mr Howie said last night that Sir Hugh Roberton had given the venture his blessing and that it had been given the best wishes  of Mr F.H.Bissett, who was president of the Orpheus Choir. The name of the choir would not include the word "Orpheus", he added.
     The size of the choir will be determined by the number of good tenors that can be obtained, as the balance of voices must be based on this factor.
    "Sir Hugh," added Mr Howie, "has been the soul of kindness to us. His sole desire was that although the Orpheus Choir should be disbanded, a body of singers should arise to take its place. I take it as a very great honour that I should be asked to conduct this choir."
     Asked what the pattern of the new choir's work would be, Mr Howie replied that from the artistic point of view it would follow the Orpheus style."
_____
NEW CHOIR WILL BE "GLASGOW PHOENIX"
Former Orpheus Members
    Members of the former Orpheus Choir, at a meeting in Glasgow last night, unanimously agreed to call the new group the "Glasgow Phoenix Choir". The conductor, Mr Robert H Howie, hopes to give the first concert in March.
    Among the names suggested for the new choir were Greyfriars, Albion, St.Mungo and Aeolian. Mr Jack Miller, who was elected president, said an enthusiastic meeting decided upon the title "Glasgow Phoenix Choir". The Phoenix having been a legendary bird which burned itself on a pyre and rose renewed from the ashes, the title of the new choir was regarded as apt.
     Sir Hugh Roberton was elected honorary president of the new choir. Office-bearers appointed were :- President, Mr J Miller; Vice-President, Mr R.Forbes; Secretary, Mr J.Wilson; Treasurer, Mr G Hardie. Along with four stewards and a librarian they will form an executive council.
   Already there have been many applications for membership of the choir, in addition to the 67 members of the former Orpheus Choir. "
And so the Glasgow Phoenix Choir came into being and went on to perform its first concert in March 1952 …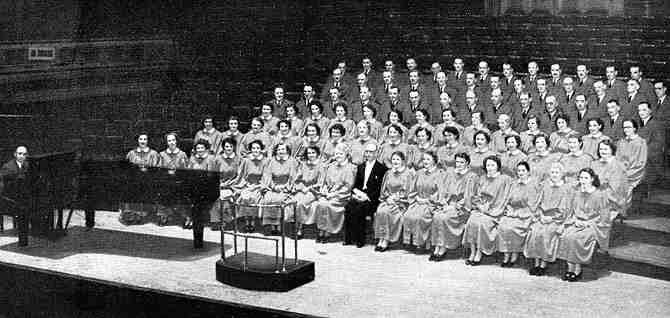 PROGRAMME FOREWORD
Sir Hugh S. Roberton
THIS is a new choir. True, it has a substantial backing of experienced singers from the Orpheus. True also that its Conductor and its office-bearers are all old Orpheans. Nevertheless it is a new choir, a choir with its own problems to face and its own reputation to make. That it will face those problems and solve them I have no doubt, nor have I any doubt that it will quickly establish a reputation for good work.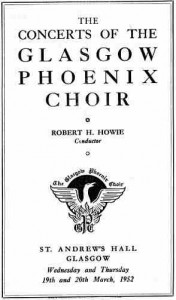 When I first intimated my impending resignation at the close of season 1949/50, I made it clear to all that any move towards the creation of a new body would have my enthusiastic support. On the completion of our 50th season, 1950/51, I re-affirmed that attitude. This choir is the direct outcome. It was born out of the deep desire on the part of the members to continue to fraternise. This feeling was made ruefully manifest at the final public appearance of the Orpheus (a broadcast in June, 1951) where, as the last falling cadence drifted away on the ether, the members looked blankly one to the other as if life had ended for them. Happy we'd been a'-thegether over many years. The end had come, the parting of the ways – so sweet, so sad, the days that are no more!
It was at that moment, I believe that the Phoenix-to-be was born. It was inevitable, it was right; and (if I may say so) the manner of its begetting was so Orpheus-like in its quiet. orderliness, unfussed, and unfussy.
And here it is, with us, a new star in the choral firmament. That its light will shine brightly is the thought and wish of all Orpheus-minded and musically-minded people..
The task is not an easy one. I had 50 years of it, and I know. But it is a rewarding one, standing as it does for a gracious way of life, giving and getting in terms of beauty, sowing (much) and reaping (not so much) but, and this is the all important thing SOWING!
_____
The First London Concert – at the Royal Festival Hall, Sunday 8th May, 1955
Foreword
We do not come to you as The Glasgow Orpheus Choir, but we do claim to be one of its "bairns" Our rising from the ashes was blessed by our illustrious parent, even Sir Hugh S. Roberton himself. We are proud of our inheritance and determined to uphold the high standard of choral singing in our own City of Glasgow. We are ever mindful of our obligations.
We are now established in Glasgow and Edinburgh and in the large cities in the North of England. This visit to London is the result of many months of preparation. We express our gratitude to all those who, by their help and guidance, have made this concert possible.
Three of the soloists this afternoon were soloists at the last Orpheus concert in this same hall on Saturday, 16th June, 1951. This is a unique tie with those great days and we are proud of their services to music in Scotland. (Ian Hamilton is a product of the Phoenix.)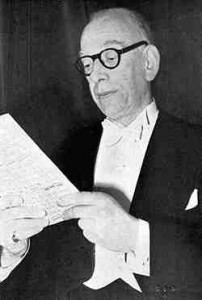 One last word about our concert being on a Sunday afternoon. This was the only available date in the Royal Festival Hall. As already intimated to you by the secretary, we shall endeavour to make our visit next year on a Saturday.
Thank you for giving the Phoenix the privilege of carrying a message of song from Glasgow to this great City of London.

---
A tune well loved by everyone
In the meteorologically cold, but warm-hearted and friendly north east of Scotland, nearly half-way between Fraserburgh and Peterhead, lies a little village whose name has become a household word; the twenty-third psalm 'to the tune of Crimond' are words dear to everyone's heart.
A Miss Irwin composed the melody and named it after her father's parish of Crimond, but it was not until 1870 that she persuaded David Grant to harmonise it for her.
How many people know the story linking this small Aberdeenshire village of Crimond with that beloved tune?
It started on a certain day in 1935, when an old lady listened to the Orpheus Choir in the Usher Hall, Edinburgh, and scribbled a request for 'Crimond' on a scrap of paper; that impromptu encore by our predecessor was the beginning of its amazing popularity, yes, even its immortality.
Crimond was so closely and definitely associated with the Orpheus as its grand finale, shared by the choir and audiences, that when the Phoenix attempted to finish concerts without it, we were met by a storm of protests, so that the timehonoured custom was revived, and every concert finishes with choir and audience singing Crimond together.
It will be good to remember once more the singing of a London audience in Crimond, so you are requested to remain seated at the end of this concert and join us to honour that great tune and that great name, whose contribution to choral music will long be remembered – Sir Hugh S. Roberton.
---
The man who has music in his soul will be most in love with the loveliest – Plato.
A word of sincere welcome
On this, our first visit to London as the Glasgow Phoenix Choir, we would express to you the pleasure we have been anticipating for four years, of seeing you and singing to you again, thus renewing the happy associations of former days, when so many of us sang (and listened) under the magic spell of the late Sir Hugh S. Roberton, who was our first Honorary President.
A Note of apology to those in seats other than ordered;
The encouraging response to our concert prospectuses was so overwhelming that an immediate problem was created to meet with your individual requirements. It was not possible for everyone to obtain the seats they ordered as first choice, and it is hoped that those which you now occupy give reasonable satisfaction and comfort.
---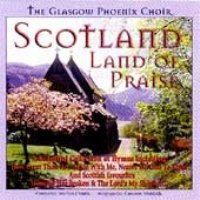 (Crimond, as popular as ever, appears on one of the choir's more recent recordings).
The Lord's My Shepherd (Crimond) from Scotland, Land of Praise.
---
Peter Mooney's first Concerts – 21st and 22nd March, 1956
FOREWORD
You will excuse me, if, in this first foreword to my first concert as Conductor of the Glasgow Phoenix Choir, I take the opportunity of recording my appreciation to the ladies and gentlemen of the choir for their warm-hearted welcome. Their welcome was happy and spontaneous, and this spirit has made music-making, nothing but a great joy.
Consequently, we present to you a programme which we hope is worthy, in the musical sphere, of your very great loyalty to us as an audience. We accept the fact that the Phoenix, being a large musical body, must perform pieces commensurate with its native talent. You will therefore find in pieces like Vineta, The Three Kings, and Ho-ro My Nut-brown Maiden the thrill of emotion when a composer makes demands on his choral resources, and these demands are met.
But a choir is not only made up of voices, but of hearts, and in our case, of Scottish hearts. These hearts never permit us to forget that we must also sing the music that will exist for as long as the world can react to a poetic spirit.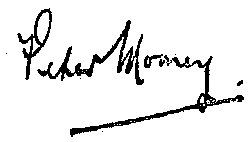 ---
The First Recording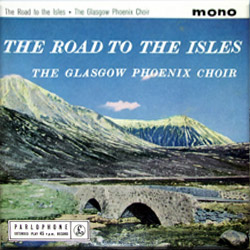 1959 -The Road to the Isles