1983 – Death of Peter Mooney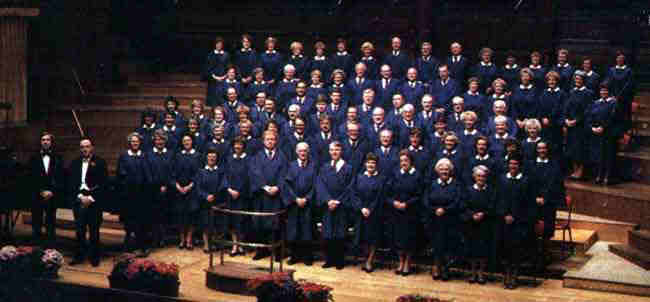 Picture of Choir from 1987
FOREWORD (from the President)
On behalf of the members of the choir, I would like to thank all who will be attending our December Concerts in the Glasgow City Hall this year. We will be joining in paying tribute to our late conductor Mr. Peter Mooney. In his twenty eight years with the Phoenix, Mr. Mooney has received much critical acclaim for the music we have made together.
We are grateful to one of our founder members Mr. Murdoch McLean who has inspired the members to keep together during this interim period, has selected a fitting programme of music for the occasion – in particular, a group of Scots songs arranged for the choir by Mr. Mooney himself, and has rehearsed the choir for these concerts of tribute with the full support of members of the choir and our accompanist, Mr. Stewart Henderson.
We are further indebted to Mr. Provan for the many arrangements he has had to make in connection with the vacancy. I am pleased to say that out of the large number of applicants offering to continue to bring pleasure to many by carrying on the inspirational work of Mr. Mooney, we have been able to select a choir-master of considerable experience in Mr. John H. L. Cranston, BA, LRAM, ARCM, FTCL, Director of Music at St. Margaret's School in Edinburgh.
Tonight, as we share with you our singing, we hope that these evenings will linger long in the mind of each of us and will help us to recall memories of many experiences of friendship and of the years of singing in what Mr. Mooney delighted to call – the Phoenix Family.
"For Death, he taketh all way;
But them he cannot take."
IAN B. MACPHERSON, President.
TRIBUTE FROM THE HONORARY PRESIDENT OF THE GLASGOW PHOENIX CHOIR Dr. HAVELOCK NELSON TO PETER MOONEY
The standard of choral singing in Scotland has always been reckoned among the best in the British Isles, and never more than in recent years. One of the reasons for this, I am sure, the emphasis laid on choral work in school. Peter Mooney was a musician dedicated to "The Voice" in all its manifestations and he held the belief that training must start among the young and carry through to adult life. So at one end of the scale there was his dedicated teaching of the students at Hamilton Grammar School and at the other end, the achievements of the Glasgow Phoenix Choir. His was a remarkable talent, for some can work with one age group more than another, but here was a musician who had success with all ages.
Add to this, an exceptional ability as an organiser which was not only put to good use at home but also in the complicated arrangements of tours overseas. Apart from the musical benefits gained by such ventures, the international goodwill created among peoples of different nationalities was inestimable, through the universal language of and common interest in music.
It is hard to sum up a gifted man's lifetime contribution in a few paragraphs, only those who worked with Peter Mooney can fully know his real worth. We have one thing to be grateful for, the records made under his direction will serve as a constant reminder for all to hear. Not many can claim to leave such a legacy behind them.
John Cranston takes over – January 1984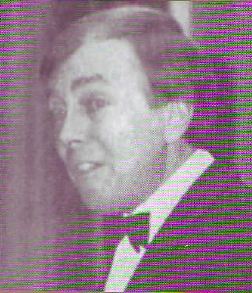 John Cranston, as well as being Conductor of the choir, was, as mentioned above, also a teacher. Director of music at St Margaret's School for Girls in Edinburgh, he brought with him, like Peter Mooney before him, many years experience of working successfully with young people. He also had a delicate touch and a sensitivity for the musicality of the pieces he introduced to the choir. Many in the choir remember with appreciation the effects he was able to produce particularly in religious pieces for which he seemed to have a particular affinity. Unfortunately, his health was none too robust, and after two and a half years the strain of commuting back and forward between his school work in Edinburgh and his rehearsal and concert commitments with the choir in Glasgow and beyond proved to be too great and led to him tendering, with regret, his resignation, effective June 1986.
Peter Shand Joins as Conductor in 1986 and Cameron Murdoch as Accompanist in 1987
FOREWORD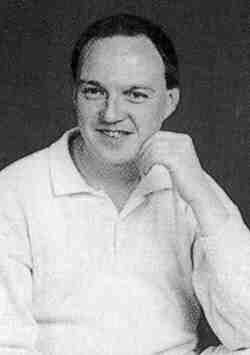 Welcome to the Glasgow Phoenix Choir's Newcastle concert for 1988. Since our last concert the choir has been extremely busy. We gained competitive success in early May at the Pavilion Theatre in Glasgow when we were declared the first ever Radio Clyde Scottish Choir Champions by the unanimous decision of the judges. It is hoped that this competition will become an annual event and we are delighted that our name is the first to have been engraved on the trophy.
Later in May we were visited by two choirs from Podinghausen. This was a reciprocal visit following our trip there a few years ago. A full programme of social and musical events was prepared for our guests, including a joint concert . Glasgow's Eastwood Theatre which was followed by one of the liveliest Ceilidhs I have enjoyed in a long time. We look forward to meeting our friends again in 1989, when we travel to Germany as guests of the town Herford which celebrates its millenium that year.
Other events included concerts in Bangor in Northern Ireland, the Fairfield Halls in Croydon, and our regular Glasgow concerts in December and April as well as a number of smaller engagements in the West of Scotland.
The biggest project of the last year, however, has been the making of a new recording for Lismor in Glasgow's Ca-Va Sound Studios. This was made with around ninety choristers and the very latest digital recording technology providing a clear and vivid representation of the choir. Many old favourites have been included as well as new pieces which have proved popular with audiences over the past few years. Records and cassettes are available in the foyer tonight at a price of £5 each.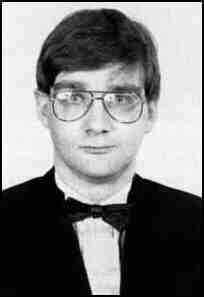 Since last March an important change in personnel has taken place within the choir. After a great many years of sterling service, Stewart Henderson has decided that the time has come to move on to pastures new. Stewart's piano playing has long been a feature of our concerts and we wish him every success in whatever new projects he undertakes. While sad to see Stewart leave, I am pleased to introduce to you our new accompanist, Cameron Murdoch. Cameron has already played a number of concerts with the choir and in some ways comes to Newcastle as an old hand. I am sure however that you will welcome him warmly at his first concert in the City Hall, Newcastle.
Tonight's programme is as always a blend of the familiar and not so familiar. I hope that the new items in the programme will give as much pleasure as the more traditional elements.
The choir always enjoys its visits to Newcastle both because of the splendid accoustics of the hall and the warmth of the audience. We extend our heartiest greetings to you all, both to old friends and new.
PETER S. SHAND